Welcome to the Missouri Census Data Center
The Missouri Census Data Center (MCDC) is a cooperative program among state agencies in Missouri and the U.S. Bureau of the Census. Its purpose is to enhance awareness of and access to public data, especially Census Bureau products.
The MCDC data archive, which includes many national collections as well as Missouri-specific data, is one of the premier sites in the country for accessing census and other public, machine-readable demographic and geographic data. Data may be accessed directly, via the public machine readable data archive, or by using one of the custom applications.
MCDC has been a partner in the Census Bureau's State Data Center network since 1979. There are SDC offices in every state. The Missouri State Library is the administrative lead agency for Missouri's program.
Email us directly for questions about census data or any of MCDC's data or applications.
---
MCDC News and Data Updates
This month sees the updates of many of our population-related applications and datasets. New data for 2019 added to State/county annual population change, Population trends with demographics, and Population estimates by age applications. NCHS (National Center for Health Statistics) "bridged race" estimates added for 2019, including state- and county-level numbers with detail by single years […]
Although Women's History Month has come and gone, it is important to continue thinking about the various trends facing women at work. Here, we examine workforce participation. Women's participation greatly increased throughout the second half of the twentieth century, but beginning in 2000, it began to stagnate and decrease. This story map, designed by Abby […]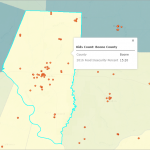 One of the most significant changes to daily life that we've seen from Missouri's response to the Coronavirus is the closure of many public school systems. While no state-level order has been put into action, cities and counties from across Missouri have closed their doors and moved to online education. This, in turn, has brought […]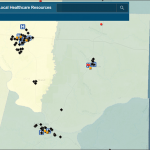 As the Coronavirus becomes a global threat, older Missourians are increasingly at risk of contracting this potent disease. This web map, designed by the Missouri Spatial Data Information Service (MSDIS), features county-level demographic data from the Missouri Census Data Center that highlights Missouri's over-60 population, as well as several datatsets from the Missouri Department of […]
Many relatively minor updates this winter: The gazetteer datasets now include recent (2015-2019) data and geographies. County-to-county and state-to-state IRS migration profile applications now include 2016-2017 and 2017-2018 flows. New Small Area Income and Poverty Estimates (SAIPE) data for 2018. The CAPS ACS application now references 2014-2018 ACS data. Geocodes lookup and ZIP codes lookup […]