In March 2015, the U.S. Census released the 2013 data collected by the Small Area Health Insurance Estimates Program (SAHIE). The SAHIE data is a valuable reference that provides annual estimates of health insurance coverage for every county in the United States. The 2013 SAHIE data is of particular interest, as that was the last round collected before the first enrollment period of the Affordable Care Act.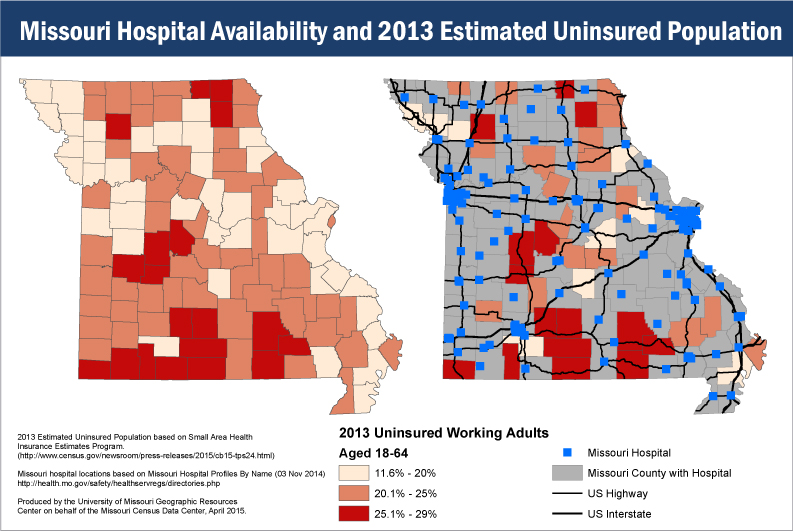 Based on the SAHIE 2013 county-level data, the percentage of uninsured working adults aged 18-64 in Missouri ranged from a low of 11.6% in St. Charles County to a high of 29% in Knox County. This information is interesting in and of itself, as it indicates that no Missouri county had an uninsured working population of 10% or less. When combined with the locations of Missouri hospitals, though, the SAHIE data presents an important lesson.
According to the Missouri Hospital Profiles By Name list, maintained by the Missouri Dept of Health and Senior Services, 41 Missouri counties do not have a hospital within their administrative boundaries. Combining that information with the SAHIE's estimates reveals that 15 of those counties — Benton, Carter, Daviess, Douglas, Hickory, Knox, McDonald, Morgan, Oregon, Ozark, Schuyler, Shannon, Stone, Webster, and Wright — had uninsured populations between 25.1% and 29% in 2013. Although the list of hospitals does not include smaller facilities (such as rural clinics), this overlap does strongly suggest that some of Missouri's most medically underserved counties were also home to very high numbers of uninsured working adults.
Reference: U.S. Census report on 2013 SAHIE